Certificado profesional de Ingeniería de Datos de IBM
Launch your new career in Data Engineering. Master SQL, RDBMS, ETL, Data Warehousing, NoSQL, Big Data and Spark with hands-on job-ready skills.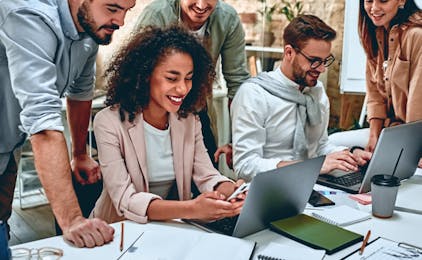 1,931 calificaciones
25,457 ya están inscritas
15 meses
Menos de 4 horas de estudio por semana
Inglés (English)
Subtítulos: Inglés (English), Coreano, Árabe (Arabic), Persa
Nivel principiante
No se requiere experiencia previa.
100 % autogestionado
Aprende a tu propio ritmo
Desarrolla habilidades que te prepararán para el trabajo aprendiendo de los mejores
Ponte rápidamente en marcha para comenzar una carrera profesional como ingeniero de datos con un certificado profesional de IBM. Incorpora las habilidades que necesitas para diseñar, implementar y administrar datos estructurados y no estructurados y obtén experiencia con herramientas clave a través de proyectos prácticos.
Títulos de trabajos comunes: Ingeniero de datos junior, ingeniero de datos
¹ Datos de un informe de Burning Glass Labor Insight (promedio de 0 a 2 años de experiencia), Estados Unidos, 01/4/2021 - 31/3/22.
$101 100
salario promedio de nivel básico ¹
52 659
oportunidades de puestos de trabajo más demandados en ingeniería de datos ¹
¹ Datos de un informe de Burning Glass Labor Insight (promedio de 0 a 2 años de experiencia), Estados Unidos, 01/4/2021 - 31/3/22.
Habilidades que obtendrás
Relational Database Management Syste (RDBMS)

ETL & Data Pipelines

NoSQL and Big Data

Apache Spark

SQL

Data Science

Database (DBMS)

NoSQL

Python Programming

Data Analysis

Pandas

Numpy
Acerca de este certificado profesional
This Professional Certificate is for anyone who wants to develop job-ready skills, tools, and a portfolio for an entry-level data engineer position. Throughout the self-paced online courses, you will immerse yourself in the role of a data engineer and acquire the essential skills you need to work with a range of tools and databases to design, deploy, and manage structured and unstructured data.
By the end of this Professional Certificate, you will be able to explain and perform the key tasks required in a data engineering role. You will use the Python programming language and Linux/UNIX shell scripts to extract, transform and load (ETL) data. You will work with Relational Databases (RDBMS) and query data using SQL statements. You will use NoSQL databases and unstructured data. You will be introduced to Big Data and work with Big Data engines like Hadoop and Spark. You will gain experience with creating Data Warehouses and utilize Business Intelligence tools to analyze and extract insights.
This program does not require any prior data engineering, or programming experience.
This program is ACE® recommended—when you complete, you can earn up to 12 college credits.
Qué aprenderás
Create, design, and manage relational databases and apply database administration (DBA) concepts to RDBMSes such as MySQL, PostgreSQL, and IBM Db2.

Develop and execute SQL queries using SELECT, INSERT, UPDATE, DELETE statements, database functions, stored procedures, Nested Queries, and JOINs.

Demonstrate working knowledge of NoSQL & Big Data using MongoDB, Cassandra, Cloudant, Hadoop, Apache Spark, Spark SQL, Spark ML, Spark Streaming.

Implement ETL & Data Pipelines with Bash, Airflow & Kafka; architect, populate, deploy Data Warehouses; create BI reports & interactive dashboards.​
¿Qué es un certificado profesional?
Desarrolla las habilidades necesarias para completar el trabajo
Ya sea que desees comenzar una nueva carrera o cambiar tu carrera actual, los certificados profesionales de Coursera te ayudan a prepararte para el puesto. Aprende a tu propio ritmo, en el momento y el lugar que te resulten más cómodos. Inscríbete hoy mismo y descubre una nueva carrera con una prueba gratuita de 7 días. Puedes pausar tus clases o finalizar la suscripción en cualquier momento.
Proyectos prácticos
Aplica tus habilidades en proyectos prácticos y desarrolla una cartera que demuestre tu preparación para los trabajos a los posibles empleadores. Deberás terminar los proyectos correctamente para obtener tu certificado.
Obtén una credencial profesional
Cuando completas todos los cursos del programa, obtienes un certificado que puedes compartir con tu red profesional, así como acceso a los recursos de apoyo profesional que te ayudarán a comenzar tu nueva carrera. Muchos certificados profesionales tienen socios interesados en contratar personal que reconocen la credencial del certificado profesional, y otros pueden ayudarte en tu preparación para el examen de un certificado. Puedes ver más información en las páginas del certificado profesional particular en donde aplica. ofrecido por

Habilidades en redes de IBM
IBM is the global leader in business transformation through an open hybrid cloud platform and AI, serving clients in more than 170 countries around the world. Today 47 of the Fortune 50 Companies rely on the IBM Cloud to run their business, and IBM Watson enterprise AI is hard at work in more than 30,000 engagements. IBM is also one of the world's most vital corporate research organizations, with 28 consecutive years of patent leadership. Above all, guided by principles for trust and transparency and support for a more inclusive society, IBM is committed to being a responsible technology innovator and a force for good in the world.
Preguntas Frecuentes
¿Cuál es la política de reembolsos?

¿Puedo inscribirme en un solo curso?

¿Este curso es 100 % en línea? ¿Necesito asistir a alguna clase en persona?

¿Cuánto tiempo se necesita para completar un programa especializado?

What background knowledge is necessary?

Do I need to take the courses in a specific order?

What will I be able to do upon completing the Specialization?

Can I get college credit for taking the IBM Data Engineering Professional Certificate?

How do you share your proof of completion with the educational institutions for transferring credit?

Where can I find more information on ACE credit recommendations?
¿Tienes más preguntas? Visita el Centro de Ayuda al Alumno.